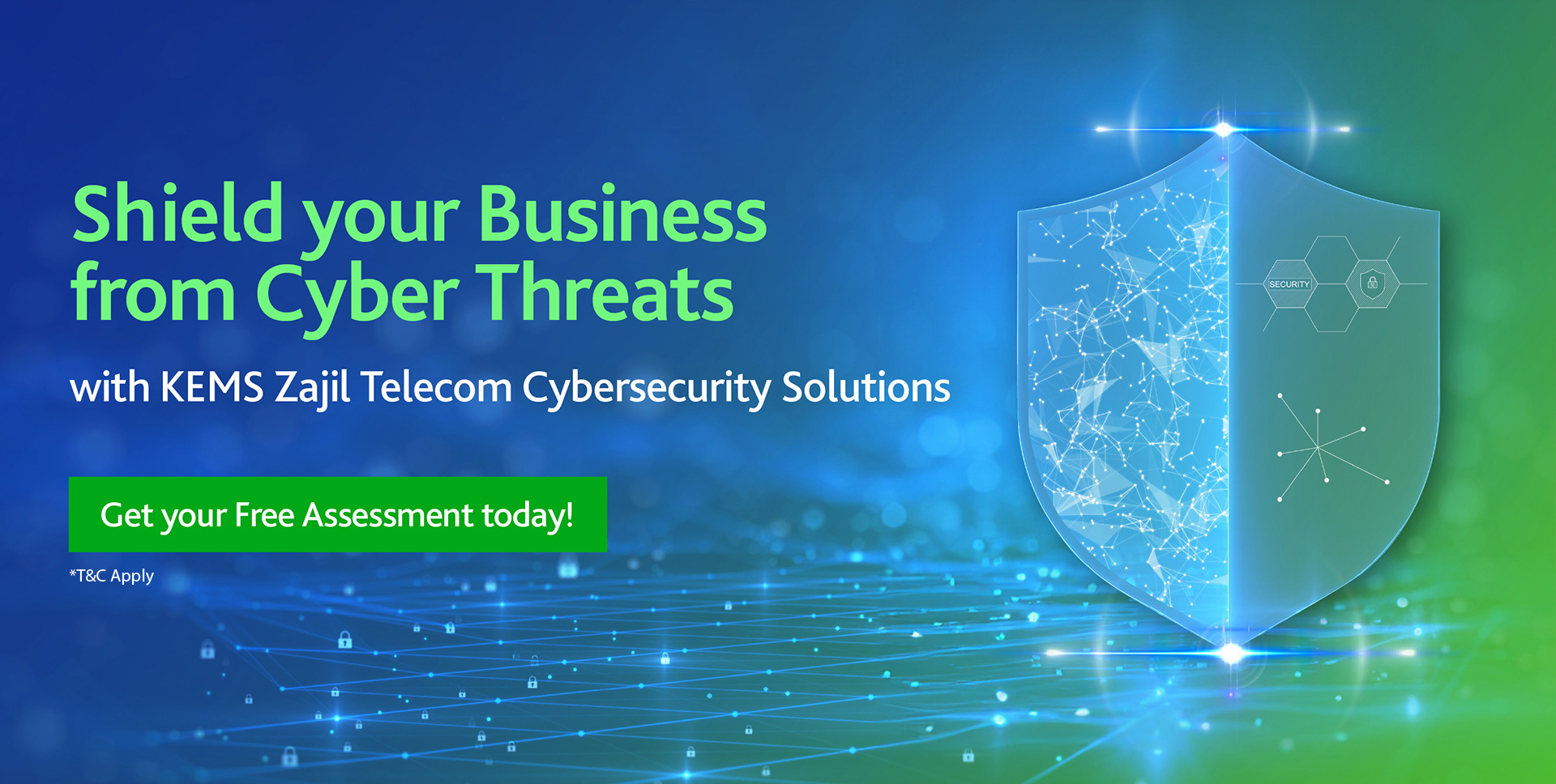 Why KEMS Zajil Telecom's Cybersecurity Solutions?
Businesses of any size and type experience an array of possible security vulnerabilities every day. There are thousands of cybersecurity incidents reported across the globe annually. The adoption of cloud solutions and remote work in the wake of the pandemic means most organizations' attack surfaces have increased exponentially. Threats come from a wide variety of players, from criminals to sponsored hackers and everyone in between. Motives are fluid from financial to geopolitical and any business can be targeted from any location across the globe.
Technology advancements aimed towards digital transformation in any organization should plan and execute the necessary controls, meticulous data management and standardization of security policies to continue seamlessly. Cybersecurity solution helps identify and mitigate problems such as ransomware, malware, phishing, DDOS and network related attacks. Adopting the right Cybersecurity solution is the only way to protect your business against cyber attacks.
The ever-growing complex perimeter of any organization requires a new holistic approach to security. In a scenario where data is pervasive, the security perimeter must be built on identifying and protecting the identities and permissions of people, application, infrastructure and machines in your environment.
KEMS Zajil Telecom believes that innovative end-to-end cybersecurity solution is a strong asset and a competitive differentiator for an organization. We aim to develop and deploy cybersecurity solution that offers visibility, simplicity, agility, and efficiency to your business operations that will transform your business security.
With the security portfolio encompassing assessment, consultancy, design, solution delivery and managed security services, KEMS Zajil Telecom provides a complete end-to-end Cybersecurity solution to detect, respond and mitigate cyberthreats. This empowers organizations to enhance their network and cyber defense strategies by focusing on security priorities with the help of KEMS Zajil Telecom-owned & KEMS Zajil Telecom-partnered Managed Security Services, Security Consulting & Advisory Services, Network & Infrastructure Security and Data & Application Security. A Solution built to cater to diverse industry segments – BFSI, Governments, Oil & Gas, Healthcare, Hospitality, Retail, Education & Industrial, our experts deliver industry leading assessments and security strategies embracing the following methodology to secure your business.
We leverage cutting-edge technologies, processes, and controls to safeguard systems, networks, devices, and data from potential cyberattacks and threats. 
Integrate Security in your Enterprise Transformation Journey
Identify
Identify the security challenges, develop security strategy to identify, manage and mitigate cybersecurity risk to systems, people, assets, data and capabilities.
Protect
Take a zero-trust based approach to protecting your data, cloud infrastructure, users, network systems and assets.
Detect
Manage and test your defenses against attacks, collect actionable insights and identify security events with powerful technology driven tools, insights and experts
Respond
Improve cyber incident response management and minimize the impact of breaches with incident preparedness planning and 24×7 incident response services
Explore KEMS Zajil Telecom's Cybersecurity Solutions
Security Consulting & Advisory Services
Managed Security Services
Network & Infrastructure Security
Data & Application Security
Our Solution Partners

Get your FREE Cybersecurity assessment from KEMS Zajil Telecom today!
Submit your details and our security experts will contact you immediately.